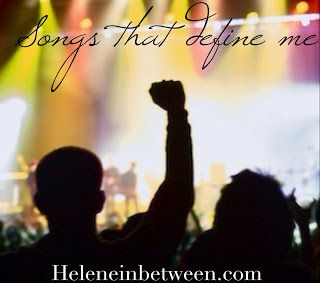 Yeah, yeah, yeah - I'm a day late to Helene's amazing idea for a link-up.
So sue me
. I already had a post scheduled for yesterday and forgot about this until 6pm. And I don't blog at night. But I couldn't not write a post about songs that define me.
If you've read this blog for any length of time, you know I am a music junkie. Mostly country and pop, but I'm open to most genres. From as far back as I can remember, music has been a huge influence in my life.
In Elementary school, while a lot of other kids loved P.E. and thought of Music as their social hour, I was the exact opposite. I dreaded P.E. and I focused all my energy in music class. I always sang along to all the songs and loved when we had special little lessons on learning the keyboard, xylophone, and recorder.
In Junior High, we graduated up to getting to play the instruments to all the songs that the younger kids were learning to sing. We got to play the bells, xylophone, drums, and various shaker instruments. My favorite was the drums. No, not the big fancy drum set. But the two little drums attached together that you played with your hands. I liked getting the chance to kind of "freestyle" on the drums. Ms. Judge, our music teacher, would always compliment me on how well I picked up the rhythm and played the drums to the beat (unlike some of the other kids, but
I digress
...). In 8th grade, I joined the Rochester Catholic Schools Honor Choir and we had to be to the high school by 7:15am or something crazy like that. You know I was committed when I voluntarily gave up sleeping later to go and practice singing. I was also in choir all four years of high school and some of my most fun memories come from choir gatherings.
Anyway, as you can see music is huge for me, so onto the
SONGS THAT DEFINE ME
. Divided into three categories (thanks
Sarah
for the idea).
Songs That Defined My Childhood
If you were born in the 80's or early 90's, YOUR WELCOME.
* Little known fact: My first CD I ever bought was Britney Spears ...Baby One More Time all the way back in 3rd grade.
* I know it's probably unbelievable, but I was an equal opportunity fan: I loved both *NSync & Backstreet Boys
* Fun fact: Back when I was, oh, 13 and "I'm Not a Girl, Not Yet a Woman" came out, I thought that song was written for me and spoke right to my soul. No lie. And I still watch Crossroads to this day; it's one of my favorite movies (don't judge!).
Miss Party Breanna's Jams
* Maybe I didn't tell you Miss Party Breanna is all about the rap music. In other words, if you want to listen to rap music, get me drunk.
* BTW, this playlist isn't working. I promise Miss Party Breanna likes more songs than just "Shots"!
Breanna's All-Time Soul-Defining Songs
Finally, here they are. 9 songs that define me and the big moments in my life.
* Fun Fact: Hall of Fame is the song I listened to right before I took my NCLEX to pump me up.