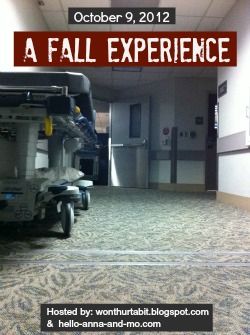 I haven't experienced an actual fall during any of my clinical shifts (thank GOD!). But I did have a near miss incident and it was my first clinical back at school this year, about 3 weeks ago.
My patient had surgery and, according to the day nurse, had experienced a syncopal episode about an hour before I came onto the floor.
So, of course, I had the actual nurse with me when getting her out of bed, just to be safe. And I am so glad that I did that. We were getting her off the commode and back into bed when she said she wasn't feeling good and totally PASSED OUT ON US MID TRANSFER!
Luckily she was the tiniest women alive and we could just pick her up and place her on the bed. But, being that this was the first time it happened to me, I was kind of freaked out. Having to yell into the hall to get another nurse to get a set of vitals and make sure everything was okay. Scary stuff people.
But my clinical instructor said she was super proud of how I handled myself in that intense situation. And I am too. :)