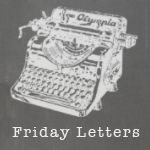 Today's Friday's Letters is a personal blog miracle: a live post! Yes, that's right - this post was not scheduled ahead of time and I am sitting down to write it! If you've seen my posts these last 3 weeks, you know that I have done a horrible job keeping up because of my busy nursing school life. BUT I promised myself I wouldn't neglect my blog after the summer (as I did in previous years) and continue blogging despite my stressful schedule.
Dear Iowa,
Thank you for the beautiful weather lately. Well, except for the whole raining thing today. But I am loving the 50 and 60 degree temperatures!
Dear Friday,
You are here! And I got to sleep in and spend time getting ready and blogging. Thank you for being so very kind! Too bad the rest of this weekend I will either be working on homework or spending time on-call for OB in case a mom goes into labor. That's giving me even more stress.
Dear Baby Boy I took care of in OB yesterday,
What a cutie! Thanks for putting up with my poking and prodding while I did my first newborn assessment. But no thanks for your dirty diaper.
Dear X-Factor,
This is the first year I am really watching you from start to finish and I am LOVING Demi and Britney as judges!
Dear puppy dog Ford,
I loved having you in the car last Sunday to drop me back off at school. Even though I have scratches and bruises all over the top of my thighs from you standing on me, it was totally worth it. I miss you!!!
In other nurse-y news (hehe), during clinical on Monday night, I had to try to restart my first IV. Too bad my patient had horrible veins. My first try I got blood return and was in the vein, but it turned and came out. The second try, we spotted a vein and stuck the needle in and the vein disappeared! So frustrating, but my instructor said I did a really good job, they just had bad veins.
Hopefully I'll get to do more "live" posts like this!