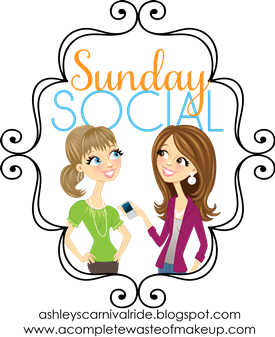 1. What were you like in Middle School/High School?
Okay, so my high school pictures aren't even on Myspace...baha! So I had to dig these out of albums stored on various photo storing websites.
November 2004 - My Sweet Sixteen Bowling Party
February 2007 - Senior Year Turnabout Week - Sports Day
February 2007 - Senior Year Turnabout Week - Tie-Dye/Crazy Hair Day
February 2006 - Junior Year Turnabout Week - Movie Star Day (We went as the Sisterhood from Sisterhood of the Traveling Pants. I was Carmen.)
February 2007 - Senior Year Turnabout Week - Twin Day
October 2006 - Senior Year Homecoming
July 2006 - Two of my senior pictures
May 2007 - Senior Year Values Class (outside!)
May 2007 - Senior Prom - Back in the day when it was cool to whip out the peace sign in pictures
June 2005? I think? My aunt & uncle's wedding. I was 16 or 17.
For some reason, I can't find any of my earlier high school pictures?? Don't know where I put them!
2. What were your favorite past times?
Like everyone else, hanging out with my best friends.
October 2006 - Senior Year Homecoming Week - Purple & Gold Day
Going to football games on Friday nights.
November 2006 - Last football game. We made it all the way to State & played at the Metrodome. First state football trip since the 1980's
Going to the mall.
In 8th grade, everyone was obsessed with carrying around their cool zipper pencil cases and all the girls had sparkly lip gloss and those Listerine strips in them. We
LOVED
those things.
3. What songs were you obsessed with?
Back in high school, Christina Aguilera, Britney Spears, Danity Kane, Tyler Hilton, Kelly Clarkson, Faith Hill, Jessica Simpson, O-Town (remember them?! I was obsessed!). I didn't listen to as much country music back then (boo!).
P.S.: How did we listen & love a song called "Liquid Dreams" & not think anything of it????
4. What fashion statement do you look back on & cringe?
My gaudy prom dress. (see above pictures)
My black fishnet top. (see first picture)
My whole junior high style.
7th grade. My 8th grade picture is so horrible (think raccoon black eyeliner, tight shoulder length curls, and striped blue rugby shirt) I'm not posting it.
The hairstyle with hair your hair up and divided into pigtails using butterfly clips? Yeah, I rocked that.
5. Who was your celeb crush?
James Lafferty
Shane West
6. What were your favorite TV shows/movies?
Laguna Beach (Did anyone else do a happy dance when it was on MTV Retro this summer every morning for like a month?!)
Friends.
E.R.
One Tree Hill.
Newlyweds
The Real World.
Road Rules.
A Walk to Remember.
Crossroads.
Anything on MTV basically.