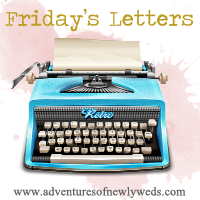 Time for my favorite link-up - Friday's Letters (& it's not my favorite simply because it's Friday).
I'm sending my girly vibes your way to have a baby girl today! Told you it would happen around August 18th ;) I can't wait to see him/her the next time I'm in town!
I loved you then. And I love you now. I was singing along to every word while you were performing on the Today Show this morning. And it was pretty awesome seeing all the women my age in the audience fan-girling over you. One Direction who?
My, my, Jeff. Aging has done you well...
Dear clothes,
Please pack yourself. I hate packing. And unpacking. And repacking.
Dear Jeff,
Thank you for giving out Jordan's timeline as to when she needs to have a ring on it. Don't think we won't hold you to this.
Dear Multiple Giveaways I have entered this week,
You're awesome. C'mon big money!
Dear Leopard phone case,
I love you more than I should. And you match my nails!