Being that I was a bad blogger and didn't update barely anything on here during this all important year in Rochester for nursing school, I thought I'd post some updates over the next few weeks from Twitter to share what my year was (kind of) like. Follow me on Twitter for more updates this summer and next semester while I finish out my nursing school career!
But first, go join up with Meg for Mingle Monday & spread the word about your blog. I love following new blogs & most of them I find through Mingle Monday so check it out.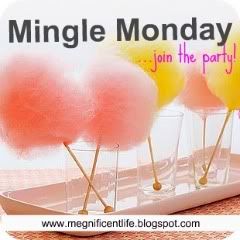 Also, Robin from
Sunshine State of Mind
is giving away $30 gift card to Target on Neely's blog today. And who doesn't love Target?!
First up is August/September adventures! Oh how inexperienced & naive I was!
And I'm here 20minutes early with my Caribou in hand...awkward... #nursingschool
— Breanna Friedrich (@breannamf) August 31, 2011
Exhausted & information overload seem to be the 2 key words from our nursing class during orientation. #nursingschool
— Breanna Friedrich (@breannamf) September 2, 2011
3 hours of computer/charting orientation, 1 hour break for Caribou, 3 hrs of isolation&med admin lecture. #nursingschool #laborday
— Breanna Friedrich (@breannamf) September 6, 2011
I had the BEST 1st day of m/s clinical at Mayo! So many nerves, but I LOVED my patient & enjoyed myself & did pretty good! #nursingschool
— Breanna Friedrich (@breannamf) September 8, 2011
Had the BEST clinical ever in Peds this morning. A great environment on Francis 3C & I can't wait to go back! #nursingschool
— Breanna Friedrich (@breannamf) September 9, 2011
Multi-tasking: letting my Mandatory Reporting Online Class run while I read my Patho. #nursingschool
— Breanna Friedrich (@breannamf) September 9, 2011
Having to listen to pharm lecture online sucks! It's carrying on forever - 80 freakin slides! Gah! #nursingschool
— Breanna Friedrich (@breannamf) September 13, 2011
9 hours at the hospital today. Ex-hau-sted. Peds Outpatient tomorrow! #nursingschool
— Breanna Friedrich (@breannamf) September 15, 2011
Nonfat Pumpkin Spice Latte & my Patho reading. Waiting to start my Peds Outpatient rotation. #nursingschool
— Breanna Friedrich (@breannamf) September 16, 2011
Awesome time in Outpatient & we got done an hour early! I would love to work there. #nursingschool
— Breanna Friedrich (@breannamf) September 16, 2011
Geez there are like 156439 different types of seizures. And I've had 2 lattes today...bah! #nursingschool #caffeineinducedseizure
— Breanna Friedrich (@breannamf) September 16, 2011
I love having only 2 hrs of class on Tuesdays, but that means I actually have to read the 4 hrs of pharm & med/surg for Wed. #nursingschool
— Breanna Friedrich (@breannamf) September 20, 2011
Another full day of Pharm & Med/Surg... #nursingschool
— Breanna Friedrich (@breannamf) September 21, 2011
I can't say it enough: I want to work in Peds! I love the nurses & the kids & I love taking care of them!
— Breanna Friedrich (@breannamf) September 23, 2011
A 2 point med/surg clinical reflection takes 1.5 hours to complete. C'mon now people... #nursingschool
— Breanna Friedrich (@breannamf) September 23, 2011
Finding & calculating those pediatric dosages of 10000 different meds was a PAIN IN THE BUTT! #nursingschool
— Breanna Friedrich (@breannamf) September 24, 2011
Dear Pediatric Case Study, Please die. I hate you. No love, Breanna #nursingschool
— Breanna Friedrich (@breannamf) September 25, 2011
Lunch break in #nursingschool involves listening to 90's music & doing the Cha cha slide. We are going crazy.
— Breanna Friedrich (@breannamf) September 26, 2011
These next 2 weeks may just kill me. Peds test, Patho test, Peds case study, oral report, concept map... #nursingschool
— Breanna Friedrich (@breannamf) September 27, 2011
Coming up with nursing diagnoses for my pediatrics care plan is BRUTAL! I hate writing nursing diagnoses. #nursingschool
— Breanna Friedrich (@breannamf) September 28, 2011
Today was a long day. Peds clinical bright & early at 6am tomorrow! Then I HAVE to start studying for my patho & peds tests on monday...
— Breanna Friedrich (@breannamf) September 30, 2011
This whole studying thing is just not happening today. Guess this weekend will consist of studying & working. Boo. #nursingschool
— Breanna Friedrich (@breannamf) September 30, 2011