Last Tuesday, my brother, Josh, turned 21 (scary, right?). We had a great day with family eating cake & opening presents. That night we met some of our extended family at Glynner's Pub for supper & drinks. Then we headed over to Dooley's Pub with our cousins, Steph & Pat, to meet up with a bunch of Josh's friends to celebrate the occasion.
It was super fun because it turned out that Tuesday nights were Bar Bingo Night so if you won a round of Bingo, you got 2 free drinks - awesome! A bunch of Josh's friends ended up winning, which was probably why our table was packed full of random drinks!
Needless to say, there are no pictures from the evening festivities because I kept forgetting I had my camera with me. Dooley's did have some yummy Sex on the Beach though...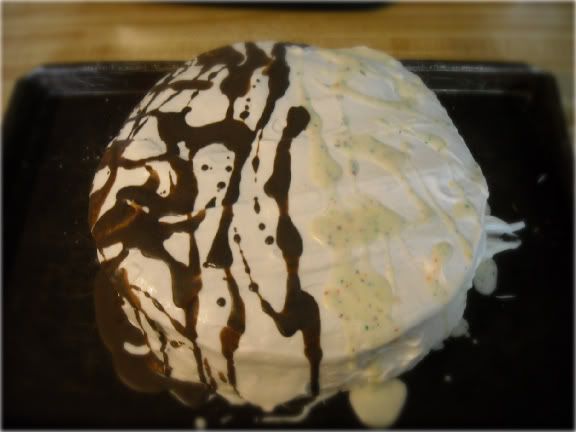 Here's the ice cream cake I made. It was two round yellow layer cakes with birthday cake ice cream in the middle &
Sister Pritchett
frosting on top with both Chocolate & Cupcake flavored Magic Shell topping! Super yummy!
To spare my brother's embarrasment, I won't put any pictures up of him modeling his new clothes. But I will put up this picture of my sister goofing off: