Okay, so I'll be honest: I only watched the first hour & 15 minutes of the MTV Video Music Awards on Sunday night. But it was that bad. Seriously.
can n'sync just perform already so i can stop watching this shit? #VMA2013
— shannon (@itgotweird) August 26, 2013
I only half watched the opening performance by Lady Gaga. But I've never really liked her anyway. I've heard it was desparate, kooky, odd. The usual.
Let's get real, I only watched the show to see Justin Timberlake & the N*Sync reunion and to see what Miley Cyrus would do next. And those two things didn't disappoint.
But first (signal the Julie Chen turn & walk to the other side of the stage...): let's take a look at the hits & misses of the VMA fashion.
Hits:
Left to Right: Ariana Grande in Kenley Collins (of Project Runway fame), Selena Gomez in Atelier Versace, Ellie Goulding in Brian Atwood, Ashanti in Unknown, Naya Rivera in Vintage Paco Rabanne
Left to Right: Miley Cyrus (looking like a Scary Spice reject) in Dolce & Gabbana, Deena Cortese in Unknown (LOVE her outfit, but those shoes belong on a stripper), Sarah Hyland in Marchesa (& she apparently got attacked by a tiger on her way to the red carpet), Taylor Swift in Herve Leger by Max Azria (if this were the Grammy's, she'd be on the Hits, but I found this too formal for the VMAs), Rihanna in Rihanna for River Island (um...she knows she's not watching the show from her couch, right?)
Now onto what you really want to hear about: Miley Cyrus.
What the hell is wrong with Miley Cyrus. She is disgusting.
— Julia Sheer (@J_Sheer) August 26, 2013
Um...I'll show you some of the
high
lowlights from her performance.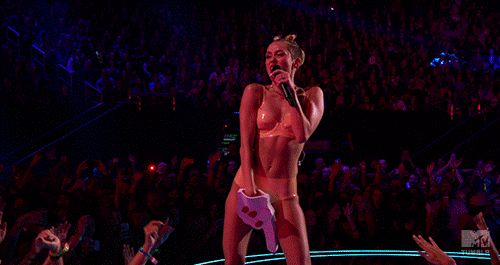 But why is Miley still on stage humping that foam finger? #vmas
— Sami Shenanigans (@SamiShenanigans) August 26, 2013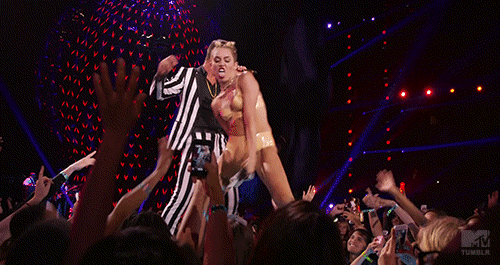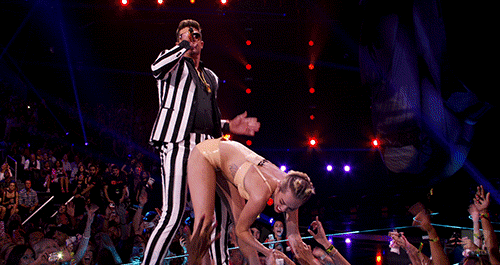 ...........poor Robin Thicke.
ALAN THICKE AND BILLY RAY COME GET YOUR CHILDREN
— Dina (@FlashingLightsU) August 26, 2013
Remember this: She is 20 years old. She was a Disney star. Her mom was watching and gave her a standing ovation.
Raise your hand if you feel personally victimized by Miley Cyrus' #VMAs performance.
— E! Online (@eonline) August 26, 2013
But by 9:00pm, the moment we had all been waiting for was here: JUSTIN TIMBERLAKE & N*SYNC!
That is what you call a performance! Justin knows how to put on a showstopper & let these young boys & girls know how a real performer acts. I absolutely loved hearing all the throwback JT songs.
Everyone needs to take lessons from this man on how to deliver a performance
— 'bout it 'bout it (@BooksForJen) August 26, 2013
After JT accepted his award & performed, I went to bed. That was really all I wanted to see.
But I did find this gem floating on the interweb.
Class act, ladies and gents....class act. I can only imagine Selena is thinking "Just smile and nod, smile and nod...."
Did you watch the awards? What did you think?