Today I am here to tell you all about the Schick Hydro Silk Razor: my favorite razor!
I first heard about it in a free sample I got a while ago. I tried it and it became my new go-to razor. It has replaceable heads so you don't need to buy a whole new pack of 3 disposable razors every month or so (like I used to do - it can get spendy!).
The Schick Hydro Silk has water-activated moisturizing serum on the top and bottom portions of the razor head, which leaves your skin moisturized for up to 2 hours after shaving. Girls, you know how dry your skin can get when you shave so moisturizing is a MUST.
It also has 5 curve-sensing blades for the closest shave. It also helps to get around all the nooks at your ankles. We all know how tough that can sometimes be!
The handle is also soft and easy to grip for an easy shave.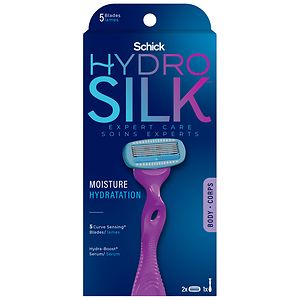 When you buy the Schick Hydro Silk (which is available at Walmart for $9.47), it comes with the handle with a razor head attached. It also comes with a replacement head and little holder that can suction in your shower so you don't have to lay your razor down on a shelf in the shower.
The pack of 6 or so replacement blades is around $8-10 as well, but, really, that's the same price you would be paying for only three disposable razors.
I also have some $5 off coupons for the razor! That would bring the price down to $4.47, if you bought it at Walmart!!
If you would like me to send you a coupon, please leave a comment (& make sure you aren't a no-reply blogger so I can get your address from you!). I only have 5 left!
I received this product for free to review from BzzAgent.
Stay tuned for some good news (which some of you already know!) on tomorrow's blog!
Also, keep your eye out for my first giveaway coming on Monday!