This weekend was pretty eventful & fun (up until Sunday night that is).
Friday
Friday morning, I went to the mall, Target, & Bed, Bath, & Beyond and ended up getting a tank I could wear for job interviews (!) under a blazer. It's super cute too! I also got a pair of really comfy capris. We also went shopping for my sister's bedding for her dorm. Friday night, I headed over to my BFF Beth's townhouse & Caitlin came over and we had spaghetti, breadsticks, and cookie cake. Then we watched Tangled (after debating which movie to watch for like a half hour!). It was so much fun & Beth's new puppy, Noelle, is too cute! Her townhouse is amazing as well!
Saturday
Saturday evening, Hannah & I met up with my college roomie, Megan, for some Mexican food & Margaritas at Fiesta Cafe. Why, yes, we did have 2 rounds of Margaritas while we sat on the patio - perfection! We caught up and shared some stories. Then we went to see Magic Mike. GO SEE IT, LADIES! It's actually a really good movie &, c'mon, Channing Tatum, Alex Petyfer, & Matt Bomer were easy on the eye!
Sunday
Megan invited me and Hannah over to her apartment so we could lay out & go in the pool since it was such a nice day. Bad. Idea. It was so much fun & felt so good. However, we stayed out from around 1:30pm to 5:00pm. This is why the weekend ended so bad.
I ended up with horrible sunburn on my legs and back. My legs have gotten a ton better and don't really bother me anymore, but my back hurts so, so bad. Sunday night into Monday, I got a total of maybe 4 hours of sleep (not all at once) on the couch & in a recliner. I took 4 naps yesterday to make up for sleep. Then, last night, I took some Excedrin PM and slept in my bed from 9:45pm to 5:00am, but then I woke up in such pain, I had to sit in the living room from then on. I tried some vinegar on the burn today and it's helped a little bit, but I just want to be able to lay down to sleep normally.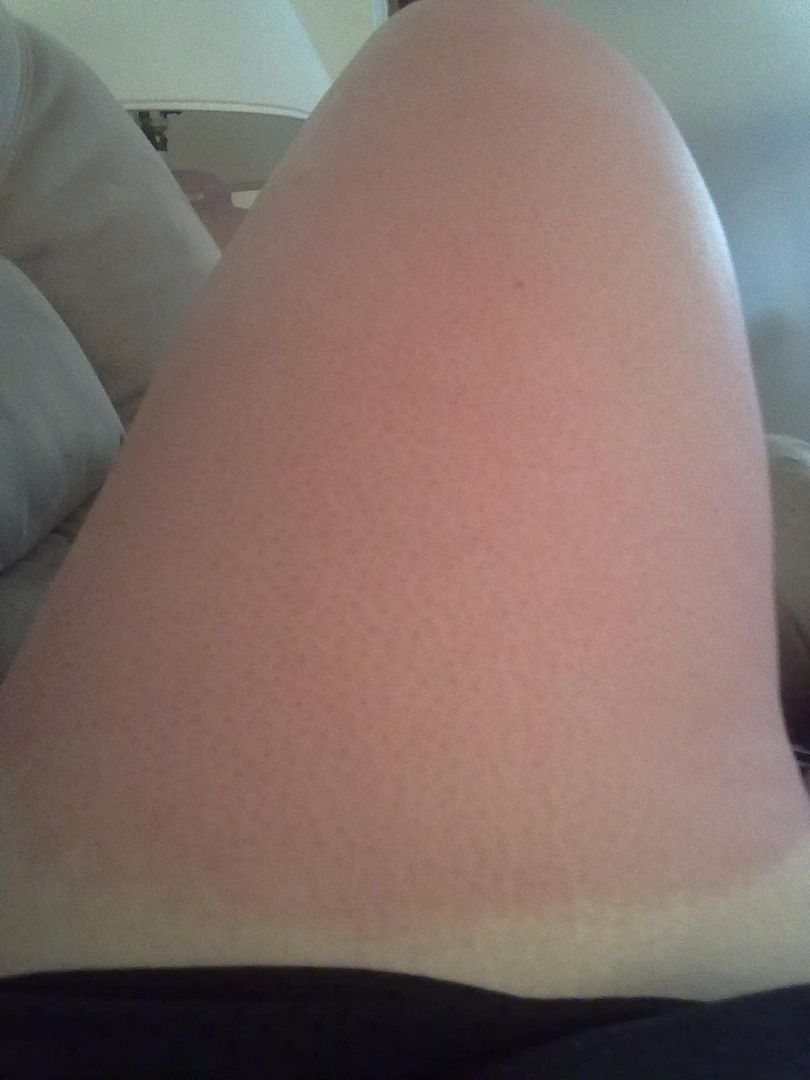 Plus, the burn on my leg is splotchy. Not cute at all.
Alas, this is how I spent most of the day yesterday...
I'm hoping it doesn't hurt as bad by Friday so I can go bowling with Beth!