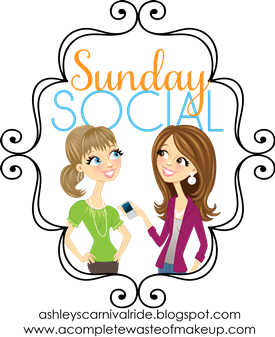 This weeks Sunday Social theme is TV so I thought I'd link up!
Favorite TV show of the past:
Geez. This could be a long list. My faves when I was really young were Power Rangers, Goosebumps, Are You Afraid of the Dark, Clarissa Explains It All, Rugrats, Bug Juice (loved that show!), All That, Kenan & Kel, Saved By the Bell, Fraggle Rock, Full House. Does this date me? As I got older, E.R., Newlyweds, Laguna Beach, Friends, American Idol, Boy Meets World, Sabrina the Teenage Witch, Dawson's Creek, Jon & Kate Plus 8. I still watch a lot of these shows thanks to DVDs, Netflix, & YouTube.
Favorite TV show currently:
One Tree Hill, Big Brother, So You Think You Can Dance, Law & Order: SVU, Glee, The O.C., The Voice, Keeping Up with the Kardashians, Ghost Whisperer, Restaurant Impossible, Teen Mom, Friday Night Lights (just getting into it!), any medical show on Discovery Health.
Which reality show would you NEVER do?:
Hmmm. Probably either Survivor or Fear Factor. I'm not very "nature-friendly".
Which reality show would you LOVE to do?:
Big Brother most definitely. I've even filled out the application & considered applying. The Amazing Race - I would love to travel.
TV Personality/character that you feel is most like you?:
Hmmm. Probably a mix of Joey Potter (Dawson's Creek), Brooke Davis (One Tree Hill), Summer Roberts (The O.C.), Rachel Greene (Friends), & Rachel Berry (Glee). I'm pretty studious, fiercely loyal to my friends, goal-driven, very girly, and loves music.

TV character you'd want to date?:
Oh boy! Seth Cohen (The O.C.) or Julian Baker (One Tree Hill). I like a little bit of nerdy.
*Swoon...*