First of all, hop on over to
Meg's blog
to check out Mingle Monday! No lie, most of the blogs I read I found though Mingle Monday and it's a great way to gain followers :)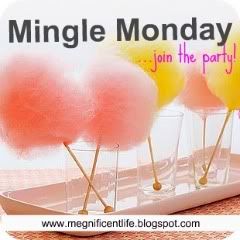 Today I thought I would bring back "Music Monday" in a different way. How about a sneak peak into my favorite videos on YouTube? (But this is by no means ALL of my favorites because that would be ridiculous...)
Let's start with One Tree Hill. Some of you probably know that I freakin' love this show. So sad it just ended, but I own all the seasons on DVD so we're good!

"Calls Me Home" by Shannon LaBrie
If you watch OTH, then you'll get this video. IT IS HILARIOUS!
Anyone heard of the PS22 Chorus? They performed "Somewhere Over the Rainbow" at the end of the Oscars & they are SO GOOD! Here they are performing with Celtic Woman.

"Greatest Love of All"
So in my college's town of Decorah, Iowa, we have this little establishment known as Roscoe's. Basically your typical nasty hole-in-the-wall bar with a dance floor. You have to be 19 to get in & it's a rite of passage for Luther students. Some girls from Luther wrote this little song about the beloved Roscoe's to the tune of "I'm Yours".
Back in February, Dierks Bentley invited his little daughter, Evie, to sing one of his songs onstage with him at Ryman Auditorium. So cute!
"I'm Thinking of You" by Dierks Bentley
Hope you enjoyed! Tomorrow there will be a guest post for 20SB's Blog Swap!