I thought I would keep up with one Big Brother post every 2 weeks or so, but I'm sick of focusing on this season's houseguests because they frustrate me so much!
Instead, I've decided to do a "Where Are They Now?" of some of the most well-known/well-liked past Big Brother houseguests. Enjoy!
Will Kirby
Since appearing on Big Brother 2 & Big Brother All-Stars, Dr. Will Kirby got engaged to Erin Brodie (of For Love or Money fame) in 2011. They have two children, William "Cash" Kirby, age 3 and Scarlett, born in 2012. He still works in dermatology and co-owns a tattoo removal company - Dr. Tattoff.
The winner of Big Brother All-Stars and one of the "coaches" in Big Brother 14, Mike Boogie co-owns Dr. Tattoff with Will Kirby. He still runs a chain of restaurants in California with The Dolce Group. He also has a son, Brady.
Known as one of the villainous girls of Big Brother 4 & All-Stars, Alison & her then-boyfriend Donny were the first Big Brother "couple" to go on The Amazing Race after the show. They broke up soon after and, in the years following BB All-Stars, Alison married her husband David in 2011 & they have a daughter, Emersyn, born in 2012.
Diane Henry
My first mega-favorite BB houseguest back in the day, you may remember Diane for being sent home by her in-house boyfriend Drew Daniel (who eventually won the game). Diane was working for cbs2, interviewing Big Brother houseguests. She eloped last summer and married her husband Shawn in Tennessee.
One of the most famous people from BB (& fellow Minnesota girl!), Janelle participated in BB 6, All-Stars, & 14. Before BB 14, Janelle married Jess DeSantos. In December 2011, she had little Violet Anne. She is currently expecting a son, Lincoln, due in August.
Daniele Donato & Dominic Briones
Surprised by the photo? Daniele was on BB 8 with her estranged dad, Dick (who is obnoxious) and came back for BB 13, where she met her now husband, Dominic Briones. Yes, that's right, she married Dominic in January of this year! Dani stays pretty quiet about her private life, but it looks as though her & Dominic are enjoying newlywed life. And, no, her dad wasn't invited the wedding.
Jeff Schroeder & Jordan Lloyd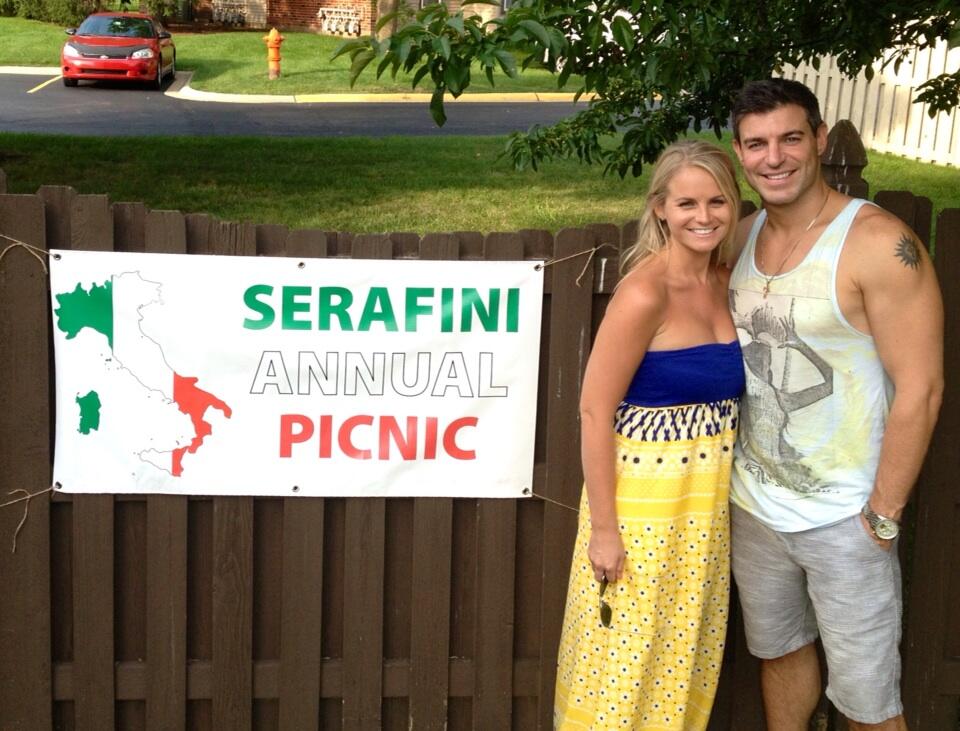 Jeff and Jordan are still going strong 4 years after meeting. In May 2012, they moved out to Santa Monica, CA together. They occasionally help Bob Merrick co-host The Baub Show & Jeff interviews the evicted BB houseguests for CBS. Jordan has recently moved back to North Carolina temporarily to finish becoming a cosmetologist, although they are still dating. This past weekend, they were both in Chicago for Jeff's family picnic (seen above).
Rachel Reilly & Brendon Villegas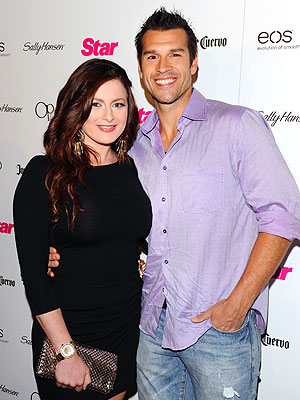 Rachel & Brendon competed on The Amazing Race after their stint on Big Brother. They also got married in September 2012 & were featured on an episode of David Tutera's My Fair Wedding.
Following BB 12, Britney & her then-boyfriend's house burned to the ground & they basically lost everything. Britney & that boyfriend eventually split up & shortly before coming back for BB 14, she married her high school sweetheart Ryan. Britney also just gave birth to her first child, a daughter, Tilly Elizabeth, on July 13th.
September 2013 Update
: Little Tilly was recently diagnosed with cancer. You can keep updated on Britney, Ryan, & Baby Tilly on Britney's blog located,
Together for Tilly
. You can also donate to help with the family's hospital bills by clicking
here
or through PayPal at
donate@togetherfortilly.com
.
Of course, they are plenty of more houseguests I could have updated you on, but that would make this post enormously long & I don't want to torture you.