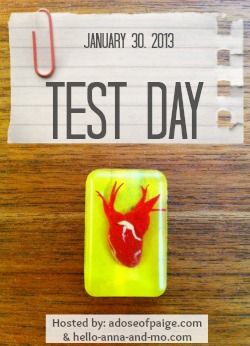 Time for another Nursing Link Up with Anna @ The Days When I'm Not a Nurse & her new partner, Paige @ A Dose of Paige!
This month's topic? TEST DAY!
Ugh...just thinking about it makes me stressed out.
I've always been a good student & having to take Microbiology as a prerequisite into the Nursing major at my school gave me a swift kick in the behind.
No matter how much I studied. No matter how much effort I put into that class, I still only just barely passed with a C+. Woah, baby.
However, once I actually got into the nursing major, I was back to my normal "good grade" self. I never had to study much for my first nursing class.
Then, those darn lab tests started. You know the type: perform the assessments you pick out of a hat on your practice patient

(aka best friend)

you brought in with you.
I was literally scared straight and so nervous for, like, 2 weeks straight!
Luckily, I did really well (I would hope! I studied like crazy!). Although, my "patient" had supposedly "hurt" one of her legs and when I asked "How is your leg feeling?", my friend replies "It's been hurting a lot lately." to which my naive, first-year-of-nursing self replies "Oh, well that's not good." My friend later told me that my prof snicked a little bit when I said that. Baha.
Second year of nursing came with much harder tests and I actually had to study a lot! And it paid off!
Then graduation comes and those dreaded NCLEX questions. I am currently in the process of studying for my NCLEX exam. I take it exactly a week from today. I am scared out of my mind. Basically, "typical" NCLEX scores for practice tests are from 60-65%. Like, that's what your typical student gets. On my practice tests, I've been averaging a 62-ish% or so. But I'm super nervous that isn't enough!
I can't wait to get my last real Nursing test done with & find out I passed!
Those of you who have taken (and passed!) NCLEX, any advice besides take as many practice questions as possible?
If you're still in Nursing school, what has your hardest class been so far?